Be Daring in the Community
BeDaring The Adult Shop's Awards
Trading for over 28 years BeDaring The Adult Shop is a multi-award winning chain of Adult Shops and is a leader in the Adult Industry. Throughout the years we have worked hard to strive for excellence, and have received many awards from the biggest industry event, the AAIA's (Australian Adult Industry Awards).
These awards include, titles such as: Best Chain of Adult Shops, Best Adult Party Plan, Best Retail Store & Best Online Retail Store. How our most significant accomplishments are for our online and retail stores – what you, our customers, experience the most!
AAIA - Best Chain Of Retail Stores
2015, 2016, 2018, 2021
AAIA - Best Online Retail Store
2014, 2015, 2016, 2018, 2021
Stay tuned and see how we do in 2022!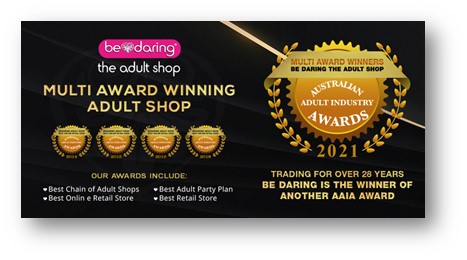 BeDaring The Adult Shops Community Responsibility
Family run & operated we understand that we have a responsibility to ensure that adult content is minimise to the public.
Age Restricted Sales - 18+ Only
We have a firm policy to ensure that we are ethically and responsibly supplying adult intimate items to the public:
BeDaring staff will strive and make every reasonable effort to ensure that all BeDaring customers are eighteen (18+) years or older. This policy is to meet both legal obligations and for ethical reasons. The directors firmly believe that all products sold in an Adult Shop MUST be sold to adults eighteen years and older.


In order to effect this policy BeDaring staff are required to ask for 'Proof of Age' for anyone who looks under 25 years of age. This is similar policy to businesses serving alcohol. Those customers under 18years or unable to provide 'proof of age' will be requested to leave.


Signage will also be provided to stores to emphasis this point to customers
Disposal of Adult Material
BeDaring the Adult Shop is committed to a socially responsible policy to ensure that no-one other than BeDaring customers are exposed to adult material. This is particularly true of erotica (in all cases) but extends to adult toys in certain circumstances.
To ensure we maintain and uphold our responsibility we have implemented the following procedures to ensure
No adult erotica texts including DVD, DVD covers, magazines or supplier catalogues are to be placed in any rubbish/skip bin. This material is all to be returned to our HO for destruction. BeDaring has a large shredder and annually hires a secure document destruction contractor to destroy any large quantities of sensitive material.


All retail product deemed unsaleable is to be returned to our HO for internal destruction and disposal.


Staff have been trained to be mindful when setting up window displays so as to not offend the public
BeDaring the Adult Shop's Place in Community Organisations
Be Daring is a member of and supports the following community organisations:
Our impact on the community doesn't just stop there either! BeDaring also support a number of selected charities that are focused on enriching the lives of others.
Click to see which charities we sponsor! See more: Charities