Adult Shop Near Me Chermside
General Information
Contact Us
Phone us: (07) 3350 2400
---
Address
725 Gympie Road, Chermside, QLD 4032
---
Regular Trading Hours
Monday - Saturday : 9am - 12 Midnight
Sunday : 9am - 9pm
---
Public Holiday Trading Hours
Christmas Eve 9am - 10pm
Christmas Day CLOSED
Boxing Day 10am - 10pm
New Year's Eve 8am - 10pm
New Year's Day 12pm - 8pm
Australia Day CLOSED
Good Friday 11am - 7pm
Easter Saturday 10am - 9pm
Easter Sunday 11am - 7pm
Easter Monday 11am - 6pm
Anzac Day 1pm - 6pm
Labour Day (QLD) 9am - 9pm
Queens Birthday 12pm - 8pm
Ekka Show Day 12pm - 8pm
Store Information
Sex Toys in the City?... Or at least pretty close to it! 15 minutes from Brisbane's CBD, at our inner-most Brisbane store, you can expect Chermside to have covered when everywhere else has closed! Open 7 days a week, 8am to Midnight (Mondays to Saturday) and 9am to 10pm (Sunday). Treat yourself to the same delightful toys found in all of our range, but without the rush of the 9-5 grind!
Staff Information
Just like our customers, our team at BeDaring the Adult Sex Shop Chermside is made up by a variety of different smiles, personalities, and personal strengths! Whether you want to shop discreetly and privately, or if you've got a million-and-one questions, our team will be ready to tailor their assistance to your shopping needs! More than sale staff we are adult industry experts, and strive to ensure everyone has the best experience possible
The Location
725 Gympie Rd, Chermside, QLD 4032
Conveniently located only 15-minutes North from Brisbane's bustling CBD, BeDaring the Adult Sex Shop Chermside, is the perfect North Brisbane location. Only a 5-minute walk from key local locations such as the Chermside Westfield Shopping Centre, with readily-available parking out the front and rear, and easily accessible via public transport (the closest bus stop is only out the front of the complex), you'll see why it's the local's go-to.
Make a quick stop on your usual route home from work, or explore the area's infamouseating and drinking scenesbefore stopping by at Be Daring the Adult Sex Shop Chermside for a scrumptious dessert. Remember we're open til 12am, 6 nights a week!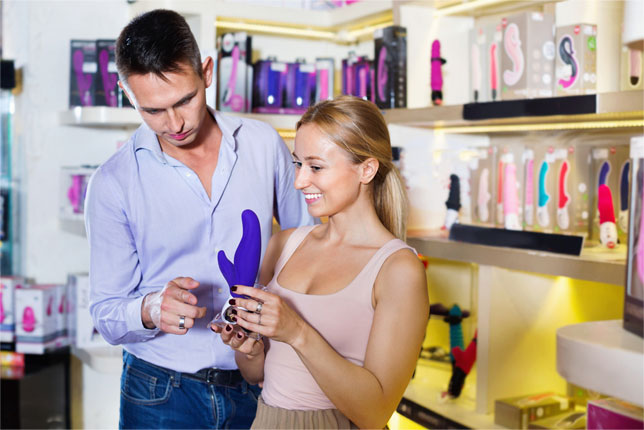 What You'll Find at BeDaring The Adult Shop Chermside
A great range of sex toys, lubricants, lotions and potions, fashion, and fetish and BDSM gear, for all experience levels and price ranges!
A safe, discreet, and fun environment for all varieties of shoppers! Whether you're alone, or with a partner, our team have the knowledge and expertise to help you.
An inclusive open-minded team that are always ready to give tailored advice suited to your specific shopping needs! And don't stress if you're not much of a talker, there's a lot to look at too!
We are an EROS Association recognised retailer, and are proud to be an LGBTQI+ safe and friendly space!
Customer rewards: VIP Rewards Programme, and DVD Exchange Programme
Laybuy, AfterPay, and ZipPay shopping methods available in-store.
Popular Product Ranges
BeDaring the Adult Sex Shop Chermside offers, the biggest names in the game and high-quality adult intimate items that are sure to satisfy all of our customers.
Sexual Performance Enhancing Pills (for Men and Women)
A wide variety of lubricants, cleaners, condoms, and mood enhancers JO Systems, Wicked, Pjur, Swiss Navy, and Wetstuff
A large collection of all your favourite adult sex toy brands, we always aim to have something for everyone! We Vibe, B Vibe, Satisfyer, Fun Factory, Lovense, Womanizer, Pipedream, Fleshlight
A huge range of pornographic DVDs, including the top trending titles and stars! Ask us about our DVD Exchange Program!
All the hottest Lingerie, Fashion Accessories, and the iconic dancing shoes – Pleaser!
Lifesize Sex Dolls! Meet our lovely ladies in-store today!
Extreme Sex Toys, including Sex Machines and Blowjob Robots!